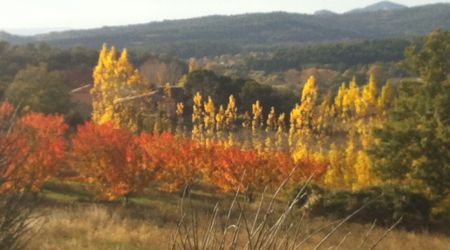 Perhaps we should think about holding workshops in November? If you look closely enough you can see the smoke from our chimney. There is a dusting of snow on the Mont Ventoux, finally visible now that the clouds have been chased away by...yes you guessed it...
the Mistral!
I have spent the last couple of days in a delicious haze of gold and dusty purple sorting through the July group's paintings. It is hard to imagine that heat and lavender ever existed now with these burnished reds in zero degrees. The galleries will be up in the next week or so, when we have been reminded whose lavender field is whose.
The reason for the delay in putting up the galleries is that that week we were pretty overwhelmed with little time for lazing around blogging and changing dpi's. Because the Madelene was not available, we rented two separate houses and were resposible for everything from croissant deliveries to toilet paper. But, if I may quote Mlle Boe, it was quite a unique experience. For us all. And one which will never be forgotten.

"I have to say, it is a surreal, weird little added perk for me that the great JMS, aside from everything else he did, actually personally restocked my bathroom spools. What!?! Much appreciated, whoever would have done, though the nerd in me wishes I'd saved a square for posterity's sake, or for ebay profits. Lennon's sketches or Elvis's scarves got nuthin' on Julain's TP! ;)"
Giving thanks - a little in advance - to all who have been, and all of those yet to come to join us. Our lives are much the richer for you all.
Meanwhile, please send any pumpkin pie donations to Louis at the usual address. (Currently the harvest moon I think.)