Painting Workshops in Provence, France
If anyone knows Provence from a painter's perspective it is Julian Merrow-Smith. Having lived and worked in the landscape around his home at the foot of the Mont Ventoux for twenty years, he is now offering workshops, and with them a chance for you to live, eat and capture the Provençal life so richly described by him and his wife Ruth Phillips in their writing and painting.
---
The Provence workshops are all nine day's long which gives you plenty of time to work and relax—you can take it at your own pace, have as much of a working holiday as you feel you deserve, the houses are quite luxurious. For those that want, we will provide short excursions to nearby markets, villages and sites of interest, in July we will take trips to the lavender fields in Sault and in April we will be looking for those banks and fields of wild flowers, irises and poppies. There are several lounges and comfy corners in both houses for sitting and reading (Julian will have his large library of art books on hand) and of course wifi to keep you in touch with home. It's a great opportunity to share your painting passion with like minded individuals, we will eat sleep and breathe painting—our aim, above all, is to give you the experience of living the painter's life in the south of France, with all it's fabulous sights, smells and tastes.
A typical day
After a breakfast of coffee, the season's fresh fruit and crusty bread from the local boulangerie, we will gather our materials and head off to work. There is much to paint on our doorstep so travelling time will be kept to a minimum. During the first part of the morning Julian will usually give a short plein air demonstration and this will be followed with individual help and instruction. We will break for lunch around 1pm—this may be a sit-down lunch, an on-site picnic, or a meal in a simple restaurant and it can be followed by a short break or a siesta if you need to recuperate. There will be a further three to four hour session in the afternoon before gathering in early evening when, over aperitif, we will have an informal critique. Later we will all sit down for a three or four course dinner served with fine wines from some of our favourite vineyards.
Accommodation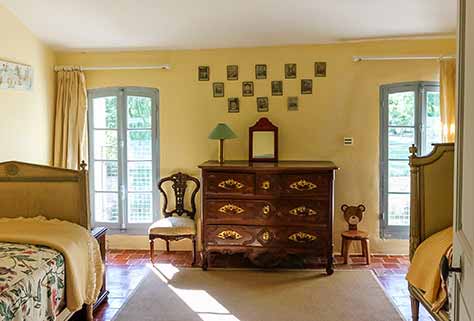 We will be staying at the Domaine St.Jacques an authentic Provençal manor house set in 180 acres of vines and woodland. We have two beautiful, centuries old, stone houses (one dates to the 11C) both with six bedrooms, swimming pools and even baby grand pianos. the simple rooms are traditionally decorated and charming (see illustration). The en-suite rooms in the newly refurbished house are more luxurious. The countryside is stunning and we don't often need to travel in order to find something new to paint. Set in the glorious countryside around the foot of the Géant Provençale, the Mont Ventoux, Domaine St.Jacques is an ideal place to relax and draw on your creative energy.
Materials
All painting materials and equipment are provided. We will be concentrating on small-scale paintings and so you will have exactly the same palette and materials that Julian uses in Postcard from Provence. These consist of a set of artist's oil colours, finest hog bristle brushes, a pochade box, a tripod, prepared gesso boards and cleaning materials, all contained in a small rucksack. Umbrellas and chairs are also provided. All you need is your straw hat.
Prices
The price in October ranges from $1950 to $2850 and in July $2250 to $3450. This is for shared occupancy with a $500 supplement for single occupancy. These rates include full board and lodging: all painting materials and equipment: transport to and from painting locations: and transfer to and from Avignon TGV station.
Places are limited and will be given on a first-come, first-served basis. A deposit of $500* is required to reserve your place with the remaining balance due 90 days prior to the commencement of the course.
*In case of cancellation your deposit is fully refundable up to 60 days from payment and refundable minus an administration charge of $100 until 90 days prior to the commencement of the course.