Painting Workshops in Provence
About our painting workshops
On our painting workshops you will eat, sleep and breathe painting. Whether in the vineyards around the accommodation, nearby hilltop villages, whether in the summer lavender or the poppy fields in spring, you will have the chance to truly experience the painter's life in the south of France. Over sumptuous cuisine catered by our team of chefs, and accompanied by some of the finest wines of the region, you will have the opportunity to enjoy locally sourced produce whilst sharing your painting passion with new friends. Working at your own pace and enjoying the pools, terraces and lounges at your leisure, this painting holiday offers the perfect balance between work and relaxation and you will return home refreshed, inspired and invigorated.
"…one of the best travel/learning experiences I have ever had"
"Julian gives more of himself to a workshop than anyone I've had the privilege of studying under for the last twenty years of struggling as a painter"
"…thanks to you both for such a wonderful time spent painting, dining, walking and conversing during the first July workshop. It has been truly magnificent; an experience one appreciates all the more when, on returning and raving to family and friends, one realises just how jealous they are! "
"Julian provided incredibly useful suggestions to each of my paintings, things I simply hadn't spotted, and I really felt it helped take them to the next level - and other people have told me the same. It was exactly what I needed"
"It was super-bon to spend time with you both, learn from Julian, a master, within such a wonderful, beautiful and supportive environment. Truly, a peak experience... I thank both of you for your kindness, friendship and generosity. Jet-lagged and trés content..."
"...and to express my gratitude to you both for your warmth and hospitality—far beyond what I expected"
---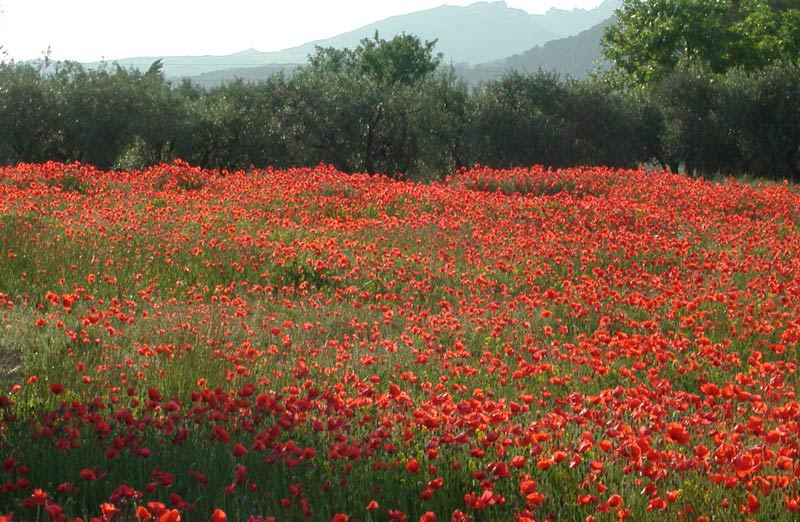 A typical day
After a breakfast of coffee, the season's fresh fruit, homemade granola and warm buttery croissants from the local boulangerie, we will gather our materials and head off to paint. There are so many exciting views to paint right on our doorstep that travelling time can be kept to a minimum. During the first part of the morning Julian will usually give a short painting demonstration and this will be followed with individual help and instruction. We will break for lunch around 1pm for a well deserved lunch prepared by our team of chefs. Afterwards you may want to take a siesta, others may continue to paint. There will then be a further two to three hour session in the afternoon before we gather in the early evening when we discuss our paintings over an aperitif. Later we will all sit down for a three or four course dinner served with fine wines from some of our favourite vineyards before settling down to a good night's sleep in the silence and calm of the provençal night.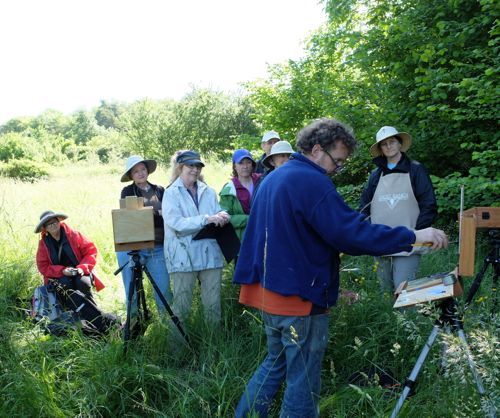 Accommodation
We will be staying at the Domaine St.Jacques an authentic Provençal manor house set in 180 acres of vines and woodland. We have two beautiful, centuries old, stone houses (one dates to the 11C) both with six bedrooms, swimming pools and even baby grand pianos. The standard rooms are traditionally decorated and charming. The ensuite rooms in the newly refurbished house are more luxurious. The countryside is stunning and we don't often need to travel in order to find something new to paint. Set in the glorious countryside around the foot of the Géant Provençale, the Mont Ventoux, Domaine St.Jacques is an ideal place to relax and draw on your creative energy.
Materials
All painting materials and equipment are provided. We will be concentrating on small-scale paintings and so you will have exactly the same palette and materials that Julian uses in Postcard from Provence. These consist of a set of artist's oil colours, finest hog bristle brushes, a pochade box, a tripod, prepared gesso boards and cleaning materials, all contained in a small rucksack. Umbrellas and chairs are also provided. All you need is your straw hat.
Prices include full board and lodging: all painting materials and equipment: transport to and from painting locations: and transfer to and from Avignon TGV station.
Places are limited and will be given on a first-come, first-served basis. A deposit of $1000* is required to reserve each place with the remaining balance due 120 days prior to the commencement of the course.
*In case of cancellation your deposit is fully refundable up to 30 days from payment and refundable minus an administration charge of $250 until 120 days prior to the commencement of the course. Course fees are non-refundable