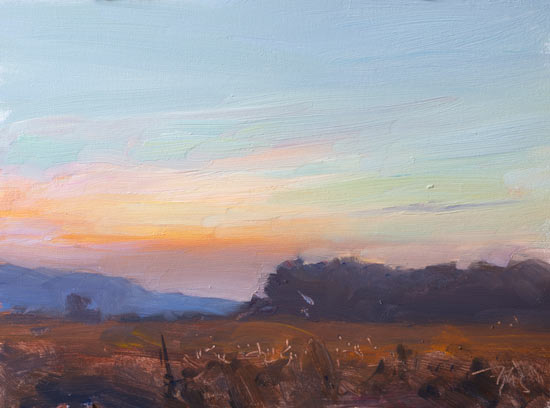 Autumn sunset

Dear *|FNAME|*,

Beautifully warm day with spectacular autumn colours, so much to paint, hope the weather holds for a while!

–Julian





Autumn sunset


20cm x 15cm (8"x6"), oil on board
Daily painting #2914

This painting will be auctioned over 24hrs., starting on Tuesday 13 November at
20:00  GMT -00:00
(15:00 EST -05:00)

If you enjoy receiving these emails *|FNAME|*, there are many ways you can make your support felt.
You can leave a comment here or just send me a note of appreciation. You can help spread the word and forward this email to a friend.
If you want to feel part of the project and help financially you can become a friend or or give a one time donation.
I send out over two million emails a year into a world where some fifty percent of the email is abusive—14.5 billion unwanted emails a day—so it's hard work getting these emails into your inbox and every little help counts. Your support is much appreciated.
"Beautiful and evocative…documenting the changing seasons of the southeastern French region so idealised in Peter Mayle's books, his artworks include colourful still lives and vivid sea and landscapes, as well as some wonderfully stern-looking self portraits"

— The Times
"Nearly every day, in a project he calls Postcards From Provence, he creates a tiny oil painting and puts it up on the Web…A high-speed Internet connection allows Mr. Merrow-Smith to live the slow-paced life of a 19th-century landscape painter while reaching today's global market..."

—NYTimes
This email was lovingly crafted by *|LIST:COMPANY|* and sent from our little corner of paradise in Provence —*|HTML:LIST_ADDRESS_HTML|*

Copyright © *|CURRENT_YEAR|* *|LIST:COMPANY|*, all rights reserved
You are subscribed to Postcard from Provence because you signed up sometime on my website. You are subscribed as *|EMAIL|* but you can change that anytime
here
. If you need a break from all these paintings, you can change your
PREFERENCES
or instantly
UNSUBSCRIBE
We artists are sensitive but I'll try not to take it personally